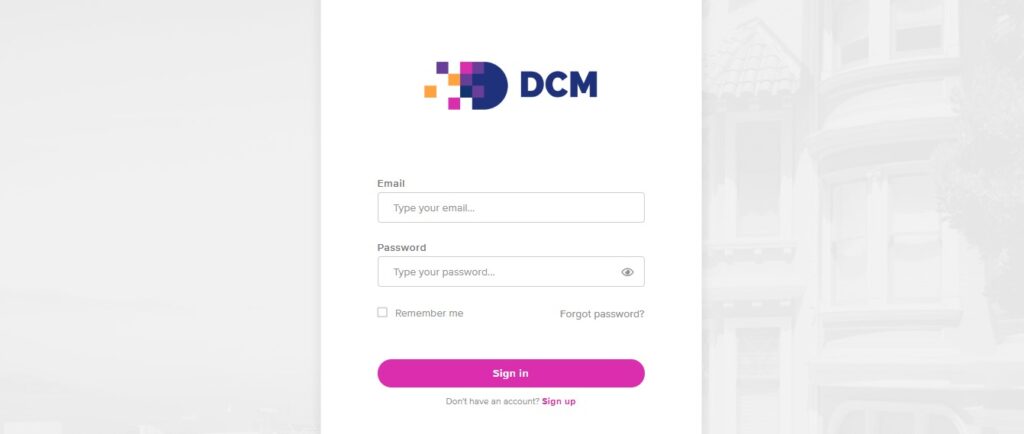 This blog is to give you a break down on the things you can do with our software program and your owner's site, what is Buildium.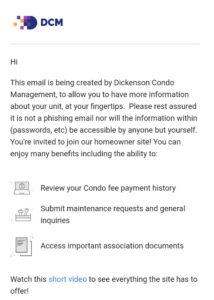 Getting your link to sign in
Signing in
So now you're logged in
Submitting a request
Monitoring your requests
Being a Board Member has its privileges
Our newsletter
Getting your Link to Sign in
The easiest way to start down the road of getting access is to email DCM at info@dickenson.ca, to ask us to reset your link.
If you've gone to our website and selected "Sign Up" on the login page, you'll need to enter your name, contact info and corporation number.  You'll need to know your Corporation's number for this technique.  If you see 'Reserve' you can ignore it.  You can then create your account.
Your welcome email and link will be emailed to you.  Because we want to make sure everyone's security is maintained, there is a one-hour deadline to click on the link provided.
If you miss the deadline, let your admin know and we'll coordinate a time that will work better, during business hours.
Click the purple/pink box that says "Activate Account".
You will be asked to create a password and enter it twice.  (Remember, it must be a complex password.)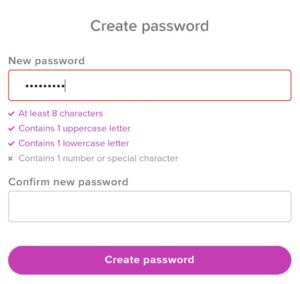 You can then read and accept the terms of service and Privacy Policy.  You must consent to them before proceeding.  You can then opt in, on your first log in, for a brief tour of the site!
Some owners with Apple products struggle a little with the original sign in, but we haven't heard the same with PC/Android users.  If you cannot access it on one device, try another.
You've Made It In!
So, what now?  Visit the top right of the page, which has a drop-down menu.  If you own more than one unit, you will be able to go here to find your other units and toggle between them.
Selecting "My Account" will allow you to review your Profile, Payment methods (if enabled for your Corporation), Security (if you want to change your password) and Text Messages.
My Profile – you can upload your photo!  Confirm your contact info and if your Board has enabled it, opt in to your resident directory.  If you would, we'd appreciate it if you filled out your emergency contact info, too.  If it changes, don't forget to keep it up-to-date!
Text Messages – You can opt in to receiving/sending text messages with DCM.  If there is an announcement (such as imminent water shut off or a security breach), our system will text you as well as email you.  If you haven't provided your mobile number yet, it will ask you to enter it now.
To the left, to the left
Down the left-hand side of the page (on desktop) or a drop down from the top right (on mobile app), you will see Payments, Requests, Announcements, Violations and Documents.  Some of these are summarized on your Dashboard, or Homepage.
You can click on each option and see details on your Condo fee payments (history of payments and charges), requests submitted and their updates, Announcements (Short but concise info needed to be imparted quickly), Violations (if there is a rule or safety infraction, noted at your unit), and Documents (Declaration, Bylaws, Rules, etc).
Submitting a Request
You have two ways to submit a request through your Owner's Portal.  You can do it through the Dashboard or Home Page or 'Requests' page.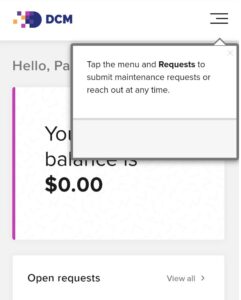 Click "Create Request".  This will give you two options:
Maintenance Request (something physically needs fixing)
General Inquiry (condo fee question? Request for permission to do something to the condo, etc)
Fill out the form with as much accuracy as possible.
You can add photos or files to your request, to help express your request (a photo of someone parked in your parking space, the location of your foundation leak, etc)
Then click "Submit Request".
A notification pops up for DCM and the task will be assigned to the appropriate staff member.
Monitoring Your Request(s)
Once you've submitted your request, you can monitor the progress of it!
Either your Dashboard/Home Screen or your 'Requests' page will show you your Open requests.  If you have multiple Requests open, you can select "View All" to see the list.
Select a specific Request to see the date you submitted it (or that it was entered for you by a DCM staff member), Updates from DCM staff and any updates you provided.
You will receive an email when staff have an update for you, to let you know there is an update.  As with most things in condos, any requests that require more than a simple response will take a little time.  But, if you aren't new to condos, you probably already knew that.
If you have an update for us, about your Request (contractor has been to your unit, work was completed, issue resolved, etc), it is easiest if you keep it in your Request's thread.  This makes sure an email doesn't get lost.
Board Member Privileges
Owners have access to more information than ever before.  As a Board Member, you get even more than owners.
As per the Condo Act, Board Members, who are elected volunteers, are responsible for tracking your condominium's financial performance, ensuring all required maintenance and repairs are carried out, hiring specialists, proposing changes to condominium by-laws, enacting rules to promote the safety, security, and welfare of all owners and providing regular communication with the other owners.
Board Members, you can access Reports (financial statements, tasks, work orders, owners lists, etc) and Financials (balances in your operating account).  You do not have to wait on your monthly financial statements to get answers, but you can find the statements at any time of the day!  Owners who are not current Board Members do not have access to "Reports" or "Financials" tabs.
DCM Newsletter
Did you know DCM sends out a weekly newsletter on Thursdays?
You can sign up for it on our website here.
It contains one or two articles relevant to condo living.  Some are high-rise specific, some are townhouse specific.  Some are Board-specific and some relevant to all owners.  The subject changes weekly, so if one week doesn't appeal to you, the next week's might.
Board members are automatically signed up for this newsletter.