Major Construction Success
Major Construction Completed with DCM's Help
The Trailer
After years of costly repairs, a 70-unit townhouse complex finally replaces old with new.
Siding was installed 20 years ago where mansard roofing was originally installed
A reserve fund study helped plan for a change
A by-law was passed to borrow funds to complete project in 1 year
Spray insulation installed and energy rebates received
Siding removed and high-quality shingles installed
New eavestroughs, fascia, soffits and downspouts installed
Contractor completed most of the work within the predicted timeline
The Prequel
This 70-unit townhouse complex began planning for a siding redesign a handful of years ago.  The siding that was installed 20 years ago had become brittle and was a constant drain on the Corporation's finances.  A designer was hired to assist the Corporation in modernizing the look of the Corporation.  The Corporation's reserve fund study engineer was also involved in the planning process, to keep the study as accurate as possible.
Owners were presented with the Board's intentions at Annual General Meetings and kept abreast of the planning process as the years progressed.  Owners were not in favour of modernizing the look of the complex and instead, wanted to improve the materials used, but keep the 'cottage' look.  Dickenson Condo Management and the Board 'went back to the drawing board' and scaled the project back.  Instead of a full redesign of the look of the units, the owners voted in favour of improving insulation (none existing) behind the mansard roofing and returning the mansard roofs to shingles (which had been inappropriately replaced with a siding material).  Eavestroughs, fascia and soffits were replaced to maintain a cohesive look.
The Board was very involved in the planning and preliminary communication of the project and the by-law was passed with nearly unanimous consent to borrow the funds required to complete the project in one year, as opposed to spreading it out over 5 years.
Dickenson Condo Management sought information from 4 different financial institutions for the Board to review.  Once the Board chose the company from which to seek a loan, DCM then coordinated the signing of the loan documents, and the registration of the borrowing by-law.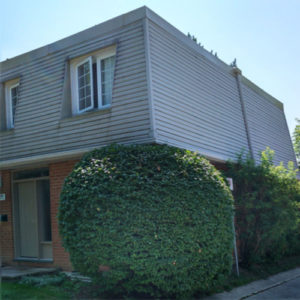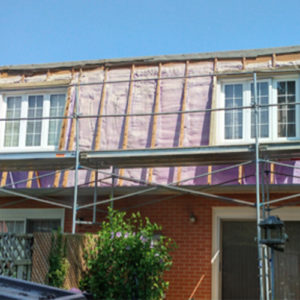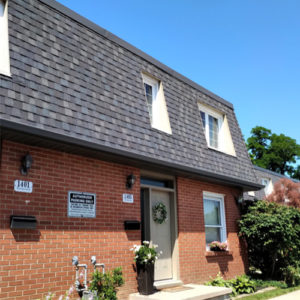 Roll Credits
Once the project was completed, Dickenson Condo Management, the contractor and the Board completed a thorough review of the site, to review and address any deficiencies.  DCM managed the finances of the Corporation during the process, to ensure the necessary cashflow was available to pay the contractor while meeting the other financial obligations of the Corporation
Join Our Newsletter
Stay up to date with everything condo