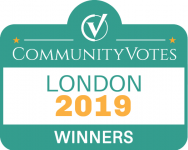 Dickenson Condo Management has won another award, thanks to you in the community!
This year, 5,581 businesses and people were nominated, but only the top 10 nominees in each category moved on to voting.  Dickenson Condo Management won the Platinum award in the Property Management category by Community Votes London!
Thank you for voting for Dickenson Management (now Dickenson Condo Management) in 2019!  By winning this award, you're showing us we're moving in the right direction!
We're continuing to work hard to improve what we offer owners on a regular basis! From more communication to better tracking of work orders, we hope to win next year's award, too!