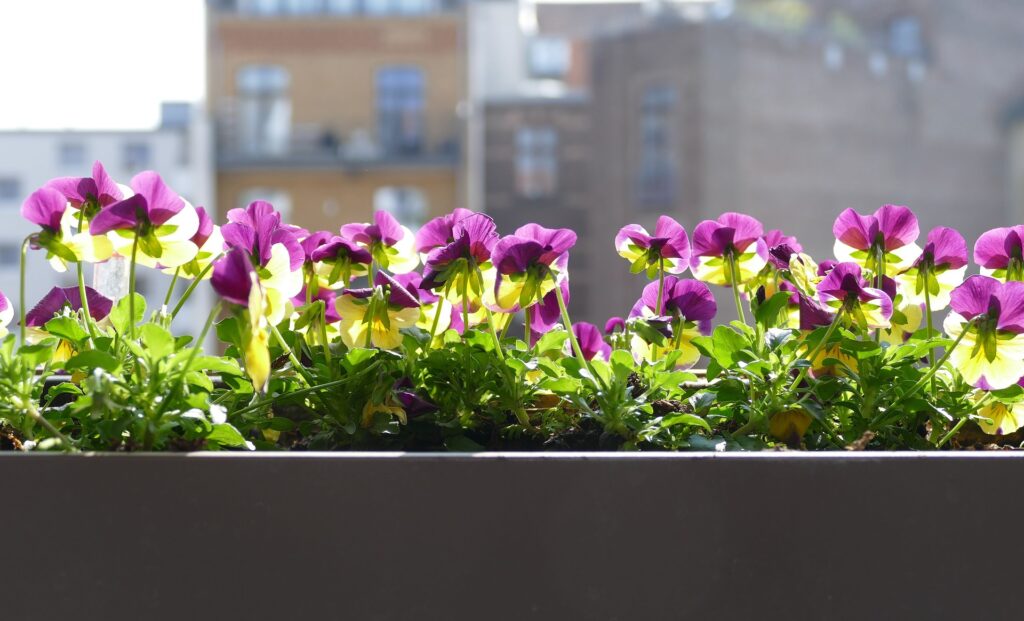 It's been a long winter this year, and the buzz of the upcoming planting season is in the air (and the bees). Whether you have a plot of land, a balcony or a window—planting can be enjoyed by condo residents in all situations.  After all, we all want the lifestyle of a condo gardener!  For those of you working with seeds, some of those would have been started indoors by now. However, late spring is an excellent time to plant certain seeds directly in your gardens (May or June). Heeman's has a seed starting guide & calendar for Ontario. You can visit Heeman's at 20422 Nissouri Road, Thorndale, ON, N0M 2P0.
Down The Path
If you don't want to go down the wrong path—and this path isn't lined with lilac bushes, it's lined with lawyer letters, plant removals and chargebacks. Check your condo rules and declarations when it comes to gardening. You can find a copy of the rules in your resident portal. Whether you will be planting a few new annuals, extending/changing the layout of an existing garden or installing an entirely new garden, it will be best to notify us at Dickenson Condo Management in order to gain the board of directors approval. It is advisable to send in a drawing/rendering of your plans as most boards will require one. Even if you have a balcony, it is best to check the rules as some corporations may only allow flowers (as vegetables may attract birds or pests). Some condo corporations have a list of approved trees, shrubs, plants & grasses. Can't find an approved item? No worries as often the board will allow substitutions.
Looking for a lower (no-mow) maintenance alternative to grass for your lawn? Do you like to lounge outside on a sunny summer day, while a cool breeze gently blows as your hand runs across a lush ground cover releasing a sweet apple-like aroma? Then consider planting a chamomile lawn. It thrives in full sun, but will tolerate dappled shade.
Moss as a lawn substitute—how about the beautiful green hues of Irish and/or Scottish moss? Both have tiny flowers that bloom in late spring, early summer and can take full sun to partial shade and some foot traffic. However, neither moss nor chamomile are good for football stomping or dog romping. My final idea is to install artificial turf and turn your backyard or balcony into a putting green! Fun for the whole family. https://greenlandturf.com/
If you've ever been walking down a country lane or close to a railroad track you might have passed by one of my favourite flowers, tansy—a cute yellow button looking flower, but it is considered an invasive plant and unfortunately can't be planted in your garden. I love to bring a pair of scissors and cut some to take home to put in a vase. An alternative for tansy, to plant in your garden, is golden yarrow, grass leaved goldenrod, golden ragwort, or golden alexanders.
Some condo corporations are concerned about bees/wasps buzzing around their complex. Once they've established several nests (ex: under the porch stairs) they can become a problem. While lavender provides a beautiful purple colour to your garden, it attracts bees. An alternative purple flower that doesn't attract bees is foxglove. Foxglove comes with a bonus of attracting hummingbirds! Other flowers that don't attract bees are geraniums, marigolds, strawflowers, chrysanthemums, roses, daturas, penstemons, red dianthus and feverfew (looks like white daisies).
Adventures in Container Planting & Mobile Potting
If you need some help with your container gardening check out Parkway Gardens located at 1473 Gainsborough Rd in London. They actually have a mobile service that will come directly to your residence and create beautiful arrangements that will fit into the curb appeal of your home.
Another popular garden that often involves containers is a fairy garden (and you could easily skip the fairy accessories and go miniature). This would be an option for someone who has a small area, and these miniature gardens are good inside or outside for those condo owners who don't have a backyard or a balcony. Van Luyk Green houses and Garden Centre located at 1728 Gore Road in London has many ideas and selections of plants/accessories for fairy or miniature garden lovers.
Van Luyk usually has a spring open house with guest speakers giving demonstrations. Unfortunately, due to Covid this has been put on hold the last couple years, but this is something to keep in mind for upcoming years. However, if you are a member or looking to join The Garden Club of London, you are in luck, as they are having a presentation for container gardening on Wednesday, May 25th from 1:00 p.m. – 3:00 p.m.
Small spaces such as balconies or patios make me think of going vertical to maximize the amount of luscious and colourful plantings you can surround yourself with. Additionally, when container gardening in a small space, such as a balcony, some things to consider is the amount of sunlight, wind (because wind can dry plants out quicker), budget and time.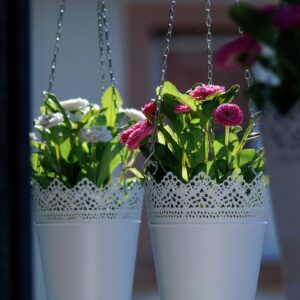 For the Love of Trees
Looking for a short road trip while exploring the lifestyle of a condo gardener? Check out Heavenly Earth. This family-run tree farm that specializes in Native/Carolinian trees and shrubs has a wide variety of trees including native perennials such as butterfly milkweed or black eyed Susans. Heavenly Earth also makes beautiful natural holiday decorations such as garland, centrepieces, gnomes and wreaths. They are located at 29816 Zone Road 4, R.R. 3 in Bothwell.